Lynxbox is a document and file management system built right into SportLynx. Think of it like our version of Dropbox, integrated into the SportLynx system.
What you can do with Lynxbox
In Lynxbox, you can:
View all your personal, team, and club files

Create folders and files for your SportLynx documents, photos, etc.

Tag and search all your files by tag, name, etc.

Download files

View files directly in SportLynx

Share files, either via Lynxmail, or sharing 24 hr links.

Assign other roles to view, modify, and share files in your organizations
The Lynxbox Interface
Here is an example of what your Lynxbox screen might like:

In this case, this user has their own Personal Drive "My Personal Files" as well as access to the public files drive for Acme Soccer Club, of which they are a member.
Let's now define some important concepts in Lynxbox.
Drives
Every user has their own personal drive, "My Personal Files", Teams have their own team drive (named for their team, eg. "The Unicorns"), and clubs and leagues have their own organization drive, named for their organization (eg. "LA County Soccer Club").
You will always have your own personal drive. In addition, you will also have access to view and modify drives for teams and organizations, depending on your role and membership in those organizations.
The icon shown for each drive depends on what kind of drive it is. My Personal Files has a

icon, teams have a

icon, and clubs and leagues have a

icon.

Folders - The first level of folders inside a drive are protected by permissions set on the folder. Your ability to view, create, and delete folders and files within this first level of folders is determined by the folder's permissions and the roles you are a member of. Obviously, within your own personal drive (My Personal Files), you will have access to all the files and folders and there are no special permissions for you to set.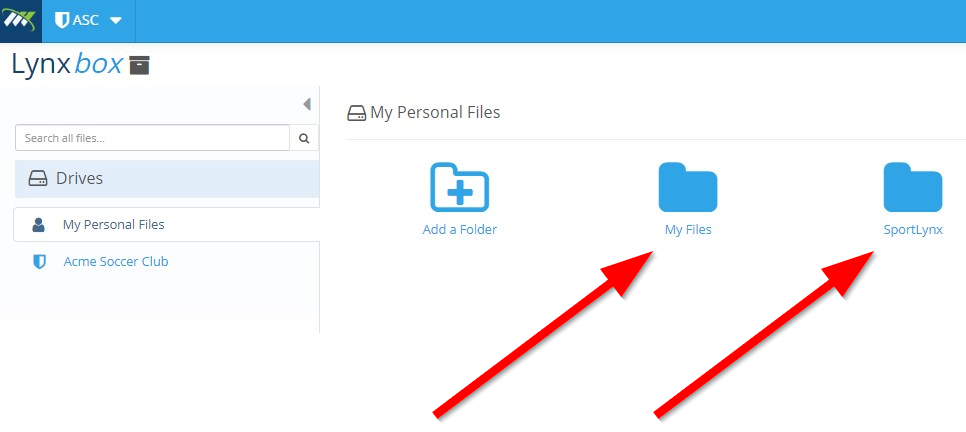 Files - Like folders, access to files is based on permissions. Files inherit the permissions of the folder they are in.
You may only have permission to view files within a folder or drive. Or, depending on your roles and permissions, you may be able to create and delete files within a folder.