Sometimes SportLynx utilizes popup window technology to facilitate certain functions, such as opening a pdf file. In these cases you need to enable pop-ups from SportLynx or they will likely be blocked by your browser.
Click your browser below to jump to those instructions to allow pop-ups from SportLynx:
Chrome
Computer
On your computer, open Chrome.
Go to a page where pop-ups are blocked.
In the address bar, click Pop-up blocked Pop-up blocked.
Click the link for the pop-up you want to see.
To always see pop-ups for the site, select Always allow pop-ups and redirects from [site] and then Done.
Android
On your Android phone or tablet, open the Chrome app Chrome.
Go to a page where pop-ups are blocked.
At the bottom, tap Always show.
iPhone & iPad
On your iPhone or iPad, open the Chrome app Chrome.
Go to a page where pop-ups are blocked.
At the bottom, under "Pop-ups blocked," tap Always show.
Safari
1. In the Safari app on your Mac, go to the website.
2. Choose Safari > Settings, then click Websites.
3. Click Pop-up Windows on the left.
If you don't see Pop-up Windows, be sure to scroll to the bottom of the list.
4. In the pop-up menu for SportLynx, choose Allow: Pop-ups for the website appear.
Firefox
1. Open a new Firefox window or new tab by clicking the "+" sign next to an open tab or tabs on your Mac or PC.
2. Click the gear icon in the top-right corner of the tab, which will direct you to your Preferences.

If you're a Mac user, you can also hold "command" + "," on your keyboard to access your Preferences in Firefox.

3. Once you're in Preferences, click the three vertical lines in the top-left and select "Privacy & Security" from the options.

Firefox makes Preferences easily accessible in a new tab — you don't have to open a dropdown menu, although there is that option.

4. Scroll to the "Permissions" section, near the bottom of the page.
5. By default, the "Block pop-up windows" box will be checked. Leave the box checked, but click "Exceptions…" You can also uncheck this box to turn off the pop-up blocker altogether.
The Permissions section also controls a lot of significant privacy features for browsing, like websites' access to your location, microphone, and camera.

6. Type in https://app.sportlynx.com, then click "Allow."
7. Finally, click "Save Changes."
SportLynx should immediately appear under "Website" with the status "Allow" in Firefox's "Allowed Websites - Pop-ups" window.
Microsoft Edge
1. Click the three-dot menu button, and then select "Settings." Next, click "Cookies and Site Permissions" in the sidebar, and then select "Pop-Ups" and redirects.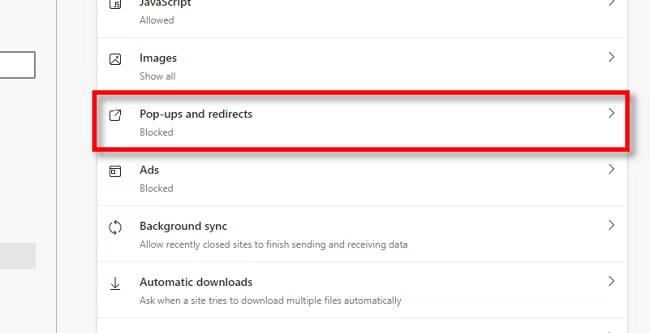 2. Leave the "Block" switch enabled on the "Pop-Ups and Redirects" page. Instead, we'll be allowing pop-ups for only certain sites. Further down the page, click the "Add" button in the "Allow" section.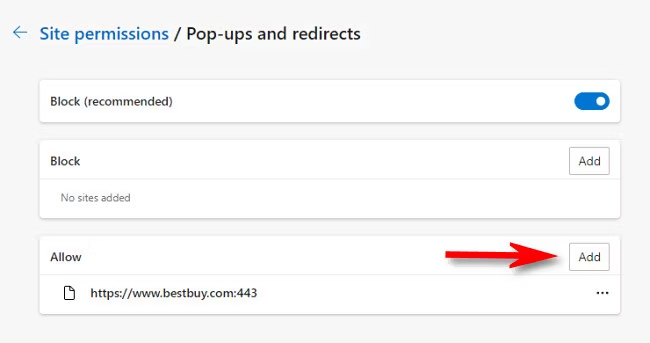 3. In the pop-up window that appears, type or paste https://app.sportlynx.com and then click "Add."